---
Artwork
St Peters Interchange
---
It is the accumulation of stories and experiences inscribed in built form that gives a place its distinct identity.
This work pays homage to the Aboriginal people of Sydney. The Elders that are forgotten, the mothers that are raising our next generation, the policemen, taxi drivers and bus drivers that provide the community with safety and service. The shadows this artwork throws on the ground represent the connection that Aboriginal people of this place have with the land here.
The work is located at St Peters Interchange and is intended to increase access and engagement to Indigenous history and culture for diverse audiences to enjoy.
Adam is a proud Darug man. He started his artwork about 25 years ago when he was living in Sydney. He was taught by a professional artist, learning his skill in the old way. Adam has also spent the last 20 years learning other trades including building, construction, design and CAD drawing. He learnt how to draw, not with a paint brush but on a computer.
Strong simple shapes based on Aboriginal culture are a trademark of Adam's design.
Adam has focused on learning how to draw and design in the modern world and is experienced in working with CNC machinery including CNC plasma cutters. A desire to return to artistic creation of the past has seen Adam return to construction and metal working where he can utilise his CAD skills to create Aboriginal art. Strong simple shapes based on Aboriginal culture are a trademark of Adam's design where he uses light and shadows to add extra dimension to his works. Adam has exhibited in Sculptures by the Sea.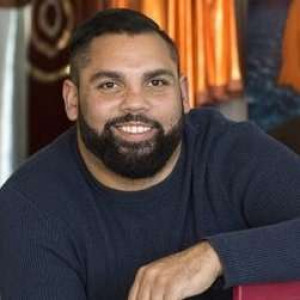 Dennis Golding
---
Dennis Golding is a Kamilaroi/Gamilaraay artist and curator based in Sydney. With references to science fiction and pop culture archetypes of the superhero laden throughout much of his work, Golding's practice explores political, social and cultural representations of Aboriginal history through a critical lens.
In pursuing colonial portrayals of Aboriginal history and identities, Golding seeks to create new impressions of contemporary Aboriginal cultural identity that is both empowering and liberated from colonial narratives.
Dennis Golding is a member of the recently founded Re-Right Collective. Golding holds a Bachelor of Fine Arts (Honours) from UNSW Art and Design.
These resources have been designed by experienced Visual Arts educators to support students and teachers studying and delivering the NSW syllabus for Visual Arts, and are tailored to Stage 4 and Stage 5.
Stage 6 teachers may also consider some of the artist studies for their students.