---
About WestConnex
---
WestConnex is Australia's largest road infrastructure project and is a critical part of a broader plan to get Sydney, and Australia, moving again. Along with the NSW Government's record investment in public transport infrastructure, WestConnex is easing congestion, creating tens of thousands of jobs, and connecting communities.
When complete in 2023, WestConnex will provide motorists with a continuous, 33km traffic-light free motorway network, with connections for future projects linking the north shore and northern beaches, Sydney Airport and the southern suburbs.
WestConnex is being delivered in four major stages:
The New M4 Tunnels opened to motorists in July 2019 and the WestConnex M8 opened to motorists in July 2020. Both operational motorways are providing significant travel time savings to Sydney motorists.
The M4-M5 Link Tunnels, opening in 2023 will be 7.5km tunnels linking the New M4 at Haberfield with the M8 at St Peters, with connections to the Anzac and Iron Cove bridges via the Rozelle Interchange.
The final stage of WestConnex, the Rozelle Interchange, opening in 2023, is being delivered by the NSW Government and will connect the M4-M5 Link to the Anzac and Iron Cove bridges, and the future Western Harbour Tunnel and Beaches Link.
The WestConnex M8 is the longest continual tunnel in Australia and was opened to motorists on 5 July 2020. The M8 is stage two of the wider WestConnex network and will be linked with the M4 via the M4-M5 Link Tunnels, currently under construction.
The M5 Linear Park is comprised of parklands that border the M5 East corridor from King Georges Road Interchange to Bexley Road at Bexley North.
In February 2021 Transport for NSW completed the Linear Park Enhancement Project which delivered complimentary gym equipment and amenities to these existing parklands to develop the recreational needs of the community. Upgrades have included new transport links, outdoor play and fitness equipment, new seating, tables and drinking fountains as well as sporting fields and courts.
This program was run simultaneously to the WestConnex Public Art Program and the parklands now hosts several of the public art installations from Canal to Creek in the suburbs of Beverley Hills and Kingsgrove.
As part of the WestConnex M8, a new above ground interchange has been built in St Peters. The site was transformed from a contaminated landfill into a future-proofed state-of-the-art above ground motorway network with important connections to future projects linking to the airport, southern Sydney and a second harbour tunnel crossing.
Building St Peters Interchange was the catalyst for the remediation of the contaminated Alexandria Landfill site which has now been transformed into accessible public space for the first time in decades. Approximately 400,000m³ of waste has been treated, capped, and safely retained on site allowing for the sustainable delivery of more than 6-hectares of accessible green space including 650,000 new trees, shrubs and bushes.
The new green space is also the home to many of the public art installations from the WestConnex Public Art Program – Canal to Creek.
---
Acknowledgement of Country
---
WestConnex would like to acknowledge the Traditional Custodians of the land on which we have built WestConnex and our public art and pay our respects to their Elders past, present and emerging.
We extend that respect to all Aboriginal and Torres Strait Islander peoples and invite everyone to share, be proud and be empowered by their culture.
WestConnex thanks the KARI Singers in joining us to come together with one voice of reconciliation.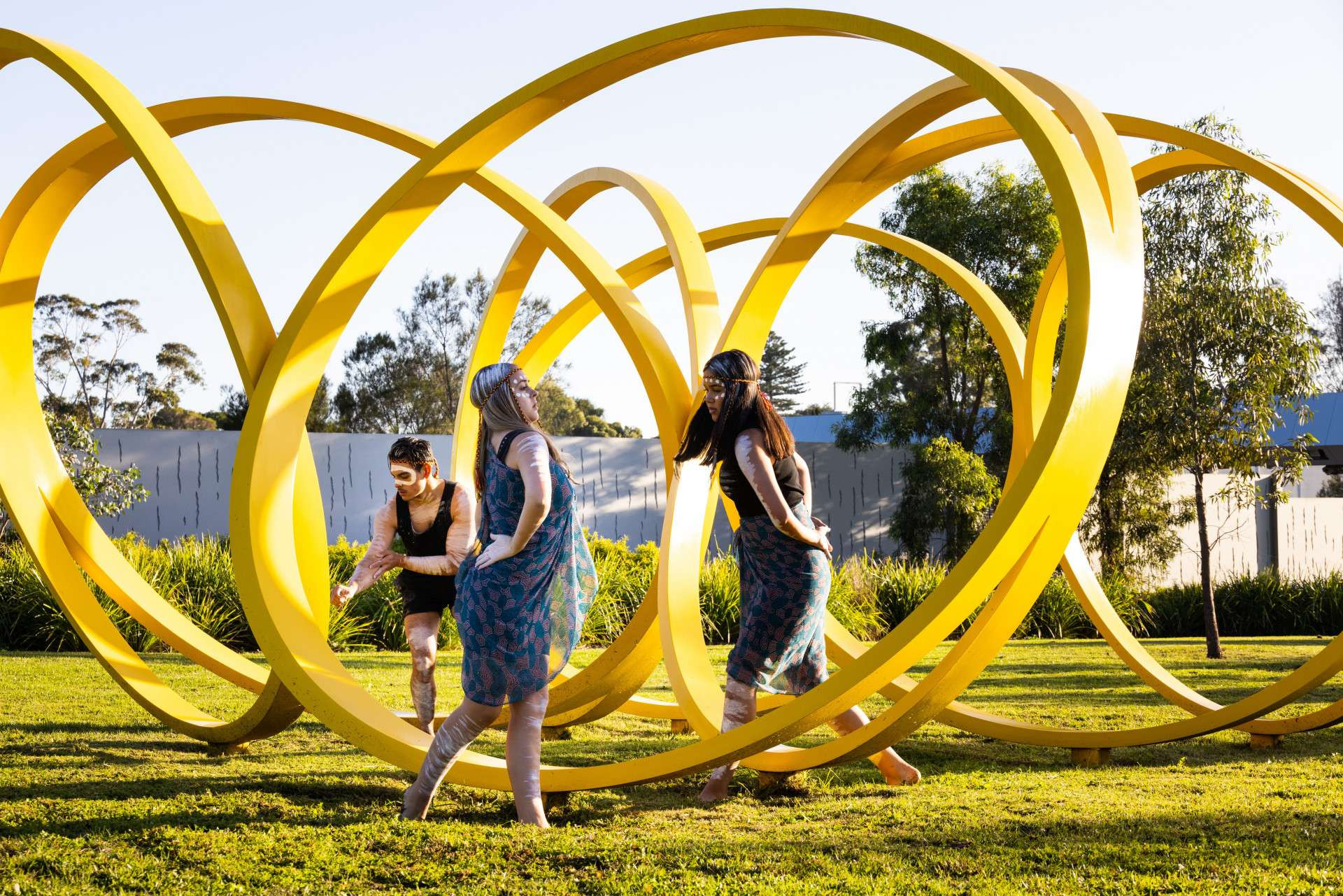 The KARI Singers are one of the most talented Aboriginal vocal performance groups. These vocalists pride themselves on sharing culture, providing professional and high-quality performances tailored to their audience.
Kari Foundation Website
---
Community benefits
---
The WestConnex M8 is not just what's happening below the ground. A major part of the project has been transforming new and existing parks and public spaces.
The remediation of Alexandria landfill undertaken for the construction of the St Peters Interchange has provided a transformation of the contaminated landfill site to enable public use for the first time in decades.
The M8 has provided 6.5 hectares of new green space at St Peters Interchange, with an additional 2.5 hectares to be added by the M4-M5 Link project.
Have a look at some of our open space highlights below.
WestConnex is building more than tunnels, it's helping to reclaim public space including:
More than 900,000 trees, shrubs and plants planted, including 650,000 at St Peters Interchange, the former Alexandria landfill site
As part of St Peters Interchange, an additional 85,000 square metres of open green space.
14km of new and upgraded pedestrian and cycle paths
The Canal to Creek Public Art Program is activating new and existing parklands between St Peters and Beverly Hills.
WestConnex has worked closely with communities on how best to integrate these new spaces for everyone to enjoy and they are designed to encourage active transport and social interaction.
Mike Hewson's St Peters Fences Playground
Campbell Road footpath
As part of the WestConnex M8, significant local roads upgrades were also delivered across the M8 and M5 East alignment which include a new toll-free bridge with a shared path from St Peters to Mascot.
The M8 has also delivered approximately 14 kilometres of new and upgraded pedestrian and cycle paths including 12 kilometres to extend and improve active transport links around St Peters and Mascot. Around two kilometres of upgraded paths have been provided at the M5 Linear Park.
Cyclists using the shared user path
Pedestrians using the shared user path
As part of the New M4 Legacy Project, WestConnex has delivered a 5,200m2 park known as Haberfield Gardens and a 2.5-hectare park known as Ismay Reserve to the local community.
The local parks are vibrant places and landmarks in their own right, building on the local character of each area.
Ismay Reserve
Haberfield Gardens